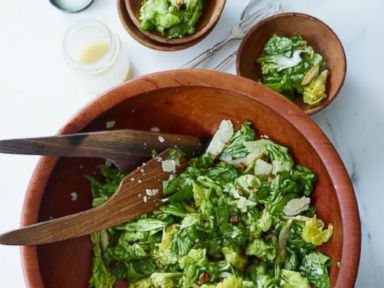 Pollan Family Signature Salad Recipe Salad Ingredients
6 oz Mesclun (or use mixed Baby Greens)

1/2 cored, thin sliced Bosc Pear

1/2 cup chopped Caramelized Walnuts

1/3 cup shaved Parmesan Cheese
Dressing Ingredients
1/3 cup White Balsamic Vinegar

1 1/2 tsp Dijon Mustard

1 tbsp Raspberry Vinegar

1/3 cup Grapeseed Oil

2 tbsp Olive Oil

Salt & Pepper

Pollan Family Signature Salad Recipe INSTRUCTIONS

Combine dressing ingredients in a glass jar or mixing bowl.

Place the lid on top and shake well to mix everything together.

For the salad, put your greens in a large bowl.

Toss greens in half the dressing.

Mix in walnut with pear. Add additional dressing to taste.

Garnish with shaved Parmesan.
Pollan Family Table Cookbook Nirvana Bars
Pollan Family Table Cookbook Nirvana Bars Ingredients
6 tbsp melted Unsalted Butter

1/2 cup Semisweet Chocolate Chips

1/2 cup Dark Chocolate Chips

1/2 14-oz can Sweetened Condensed Milk

9 crushed Graham Crackers

1 cup chopped raw Walnuts

1/2 cup White Chocolate Chips

1 cup sweetened shredded Coconut

1/4 tsp Salt
Pollan Family Table Cookbook Nirvana Bars INSTRUCTIONS
Preheat oven at 350 F and prepare a 9" pan with parchment.

Mix butter with graham cracker crumbs and salt.

Press crumb mixture into the bottom of your baking dish.

Add a layer of chopped nuts, then semisweet chips, white chocolate chips, and dark chocolate chips.

Sprinkle coconut over the top and pour condensed milk in an even layer.

Bake about 25 minutes, to golden brown. Let cool before cutting into bars.
The Pollan Family Table: The Best Recipes and Kitchen Wisdom for Delicious, Healthy Family Meals